Auburn Fire News
Keep up-to-date with the latest news of what the Auburn Fire Department is doing along with their Local 797. You can read and see photos of the members in action, doing what they do best!
2013 Stair Climb Final Results
Maine's Bravest Brings Home the "Cup" The Auburn Fire Department's IAFF Local 797 is excited to announce the success of the 2013 stair climbing team (Maine's Bravest). They out-stepped 2nd place Portland Fire Department by a mere four seconds to bring home the race's victory cup.

Androscoggin County Chamber of Commerce Member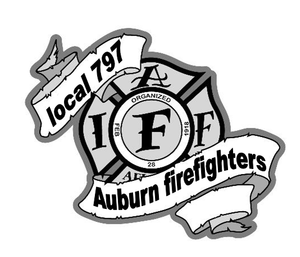 Local 797 Joins the Androscoggin County Chamber of Commerce The Auburn Local 797 has recently formed a public relations committee to extend our services to not only the residents of Auburn, but businesses as well. We felt it was necessary to join the Androscoggin County Chamber of Commerce in order to reach out to the business portion of our community.

2012 Fight For Air Climb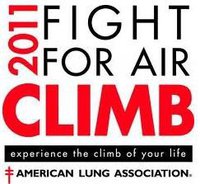 Come join the Auburn Fire Fighters for thier Second Annual "Fight for Air Climb". This is a stair climb to raise money for the American Lung Association. Please either donate to our group or better yet sign up yourself to help raise money. There is a registration discount for us this year so please, sign up early. It's going to be $20 instead of $35.

2011 Dempsey Challenge

2011 Dempsey Challenge So as we turn our pages from our 9-11 and MDA events we are now focused on our partnership with the Dempsey Challange. Auburn Firefighters Local 797 has joined The Dempsey Challenge as a Positive Tracks Partner and sponsor of the Kids' Fun Run. The third year fundraising event will take place Oct.

Rollover on Hotel Road

Man injured in rollover on Hotel Road
AUBURN — A man was pulled from a crumpled, overturned black truck that rolled over on Hotel Road at around 8 p.m. Thursday.
"Speed seems to be a factor," Cpl. Matt Dailey said. "It appears that the driver came around the corner too fast, left the pavement and over-corrected and ended up rolling."
The truck came to a stop near the intersection with East Shore Road. The driver was alone in the vehicle. He was taken by ambulance to Central Maine Medical Center, Dailey said. The victim's name and condition were not available late Thursday.
A woman at the scene who declined to give her name said she came upon the accident right after it happened and tried to talk to the driver.
"I'm a nurse; I wanted to make sure he was breathing," she said. "He was crushed up sideways, his head under the seat. He was buckled in."
He was breathing and moaning, she said.
kskelton@sunjournal.com
_________________________________________
Rescue Strut Training with Don's Towing
In the months of June and July members of the Auburn Fire Dept. conducted vehicle stabilization and extrication training at Don's Towing on Washington st. in Auburn. The Fire Dept. acquired some new equipment over the past year and was afforded the opportunity to use this equipment. The new equipment is the Paratech Rescue Strut Vehicle Stabilization Kit. These struts can be used to stabilize a vehicle that has rolled over, as well as supporting most types of vehicles from moving to prevent further damage / injury to patients and rescue crews at an emergency scene. These struts paired with traditional extrication equipment make for a good rescue equipment package.
Thanks to Don and his crew at Don's No Preference Towing for providing wrecked vehicles and the space to train in. Don has always been gracious for providing cars and a training area in the past at no cost to the Auburn Fire Department, in turn, saving the taxpayers this training expense.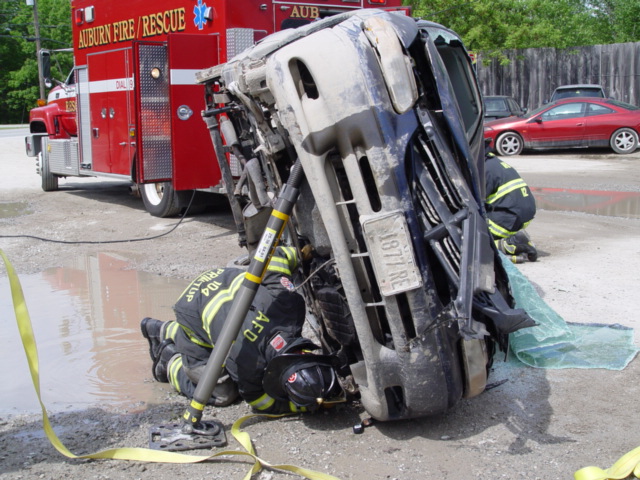 Firefighter Tom Printup is scene in the picture setting up Paratech Rescue Struts

________________________________________________
September 11 Ceremony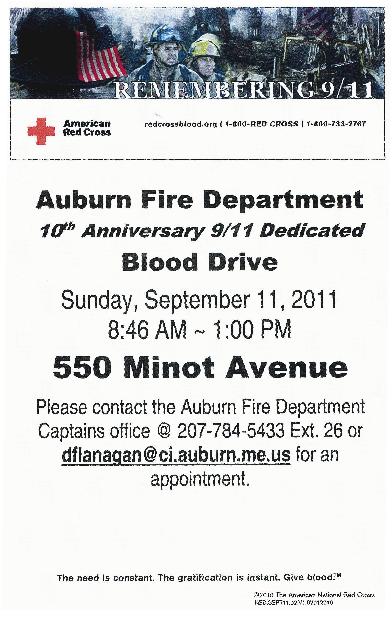 Please come and support the Auburn Fire Department with their 10th year dedication to September 11. During this ceremony, their will be a blood drive, remembrance ceremony, an unveiling of the Auburn's 9/11 Memorial, refreshments, and other activities. As more information becomes available please visit our website or Facebook for the most recent and up-to-date information. Like always, the American Red Cross will be looking for blood donors, please show your support and help out
Local 797 Sponsors LA-DU 2011

On Sunday, June 26th, Museum L-A invites you to Simard-Payne Park in Lewiston, Maine to experience the breathtaking course of the 2nd annual L-A DU. This 2.6-mile run, 14-mile bike and 3-mile run will race past historic millscapes, scenic paths and the mightiest river in Maine. The Duathlon will benefit the next very important phase of the NEW MUSEUM Building Program, i.e. schematic designs and interpretive planning of exhibits in the Camden Yarns Mill, future home of Museum L-A. We ask participants to help raise as many additional donations as possible to help us reach our vision. Individuals and relay teams are encouraged to register early, as the Duathlon will be capped at 500 participants. This is the race that will go down in the 2011 race archives as an amazing experience with lots of great prizes and race amenities. Newly added this year is the New Balance 5K Run, Community Walk and a Kids Obstacle Course presented by Auburn Firefighter's Local 797.

The Kid's Obstacle Course will be for children's ages 5-12 and will be set up in a way that the kids' will have to go over, through or around about 10 different obtacles. The event is Free for all participants and will be held in Simard-Payne Park beginning at 9 AM. All particpant parents must register their children by going to event website: www.museumla.org/ladu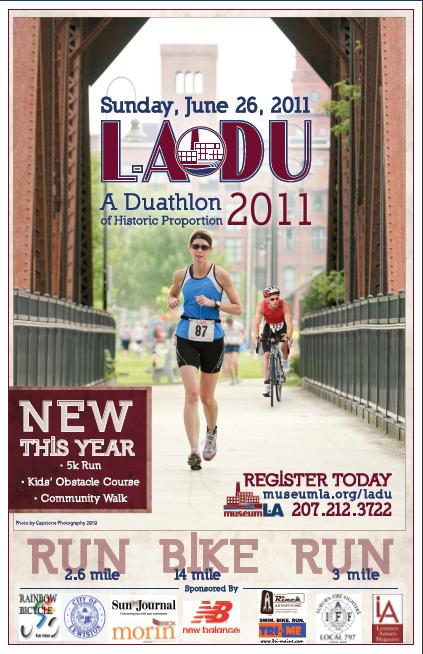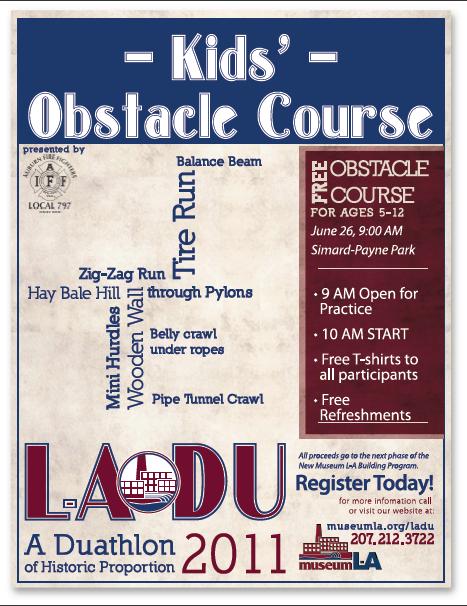 Newly Promoted Lieutenant

Auburn Fire Chief Geoff Low announced the promotion of Firefighter Matt Fifield to the rank of Lieutenant on January 23, 2011. He is presently assigned to Engine 3 on Minot Ave. Lt. Fifield was hired on March 1, 2001 and his previous assignments included Rescue 1, Engine 2, and Engine 3. Lt. Fifield is the Fire Department representative for the city's "Health and Wellness" Team.

Lt. Fifield is a graduate of Southern Maine Community College with an Associate's degree in Fire Science. He is also a certified Firefighter 1&2, Hazardous Materials Technician, and currently holds a State of Maine EMT-Intermediate license. He has also completed the Maine Fire Training & Education Fire Officer 1&2 Certification.

Lt. Fifield started his career in the fire service over 15 years ago in the Town of Mechanic Falls where he gained a great deal of experience and is currently the Deputy Fire Chief. He also has worked for the town of Windham Fire Department along with United Ambulance Service. Lt. Fifield is currently a member of the Androscoggin County Hazardous Materials Team and Oxford Fire Department.

Lt. Fifield currently resides in Mechanic Falls with his wife Tricia and their two boys Isaac and Liam. His hobbies include hunting, fishing, skiing and camping with his family and friends.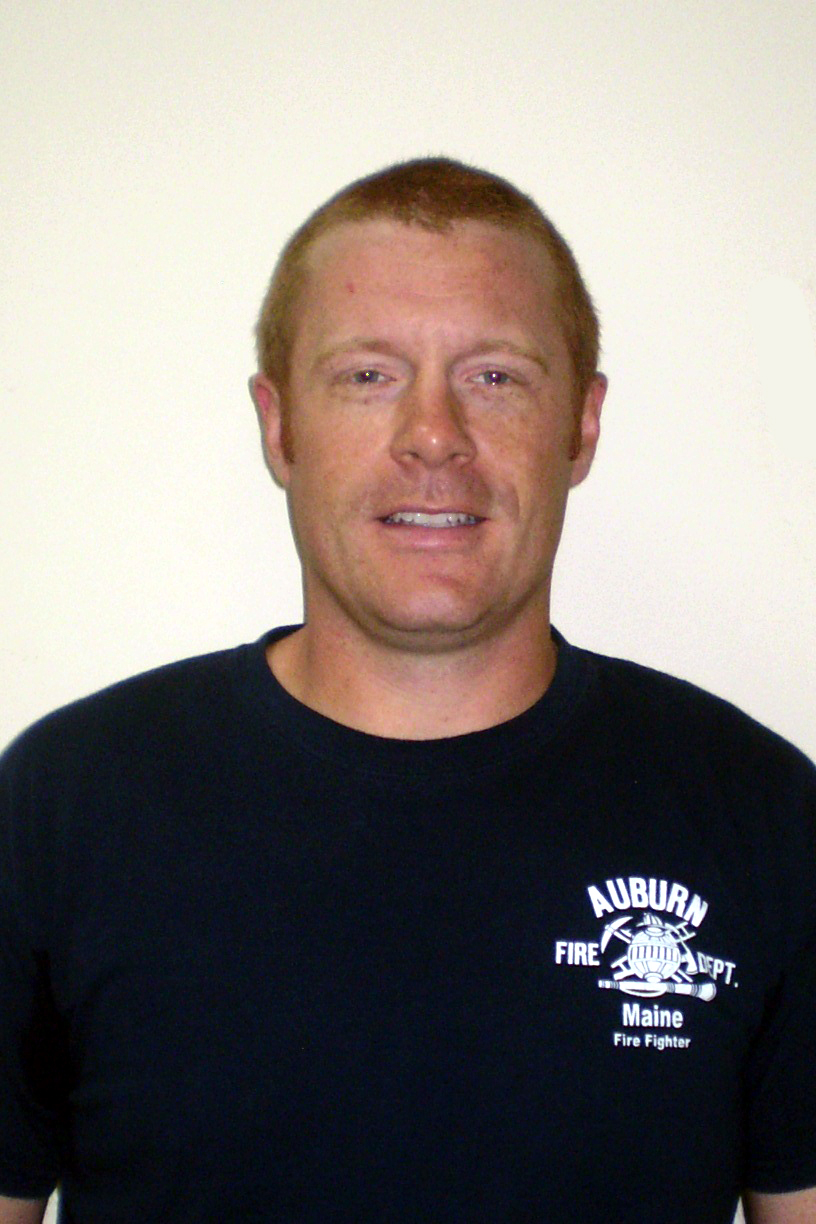 New Hire Mark Tripp
On February 14th, 2011 the Auburn Fire Department welcomed their newest member, Mark Tripp, to the force. Prior to being hired in Auburn, Mark spent 7 years as a full-time firefighter with the Town of Rumford. He started his firefighting career in Rumford in 1996 as a member of their junior firefighter program. He served in their call force until he got hired as a full-time career firefighter in 2004. Mark also currently works as a firefighter for the Town of Paris and as an EMT for Med-Care Ambulance in the town of Mexico. Med Care Ambulance provides EMS services to 11 towns in the River Valley Area.
Mark brings with him a number of professional certifications and licenses. He is a National Pro Board Accredited Firefighter I and Firefighter II. He is State of Maine licensed Basic EMT. He is a certified Hazardous Materials Technician. He is well versed in various Technical Rescue disciplines with current certificates in rope rescue, confined space rescue, trench rescue, tower rescue, ice rescue, and SCUBA. He also has a Class B Commercial Drivers License. Mark is also finishing up an EMT-Intermediate class.
Mark attended school at Mountain Valley High School in Rumford where he graduated in the class of 1998. He currently resides in Rumford Point and is looking to relocate to the Auburn area. When not serving the public, he enjoys spending time with his 3 year old daughter Jasmine. Mark also likes most outdoor activities including: skiing, golf, snowmobiling, fishing, and hunting. Understanding the strenuous physical requirements of the job, Mark also maintains a rigorous physical fitness regimen.
Mark finished an intensive two week Rookie School run by certified in-house fire instructors. He will continue his studies with a year long probationary period. During his probationary period he will have to complete numerous trainings. He will also have to pass written and practical performance exams. He is assigned to Engine 3 at Central Station and will be working on C shift.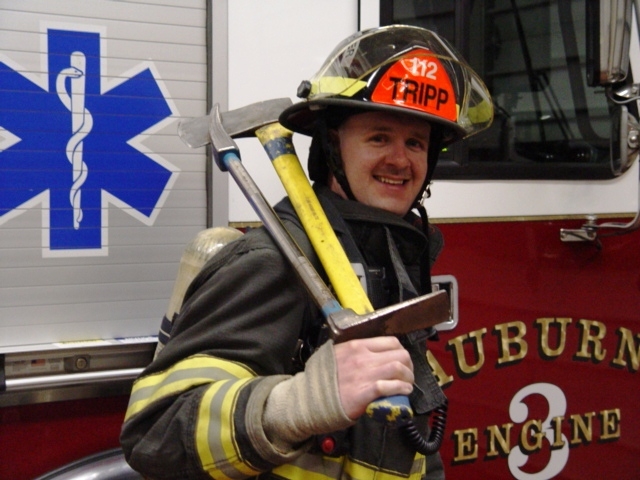 Pvt. Mark Tripp
Newly Promoted Lt. Dumont
Fire Chief Geoff Low would like to announce the promotion of Firefighter Rob Dumont to the rank of Lieutenant. He grew up and attended schools in Lewiston. Rob started his fire service career with the Danville Volunteer Fire Department. He attended the Maine State Fire Academy in 1996 where he obtained his Firefighter I & II State Certification. He continued his education receiving his National Registry Paramedic Certification in 2009 and graduated from the Maine Fire Training Fire Officer Academy in 2010. Rob was hired by the Auburn Fire Department in 2000 and spent his first 8 years of service on Engine 3 operating out of Central Fire Headquarters on Minot Ave and the last 2 years on Engine 5 out of the Center Street station. Rob resides in Auburn with his wife Lisa and their 12 year old son Devin. In his spare time he enjoys hunting, riding his Harley, and traveling throughout New England with his son's hockey team.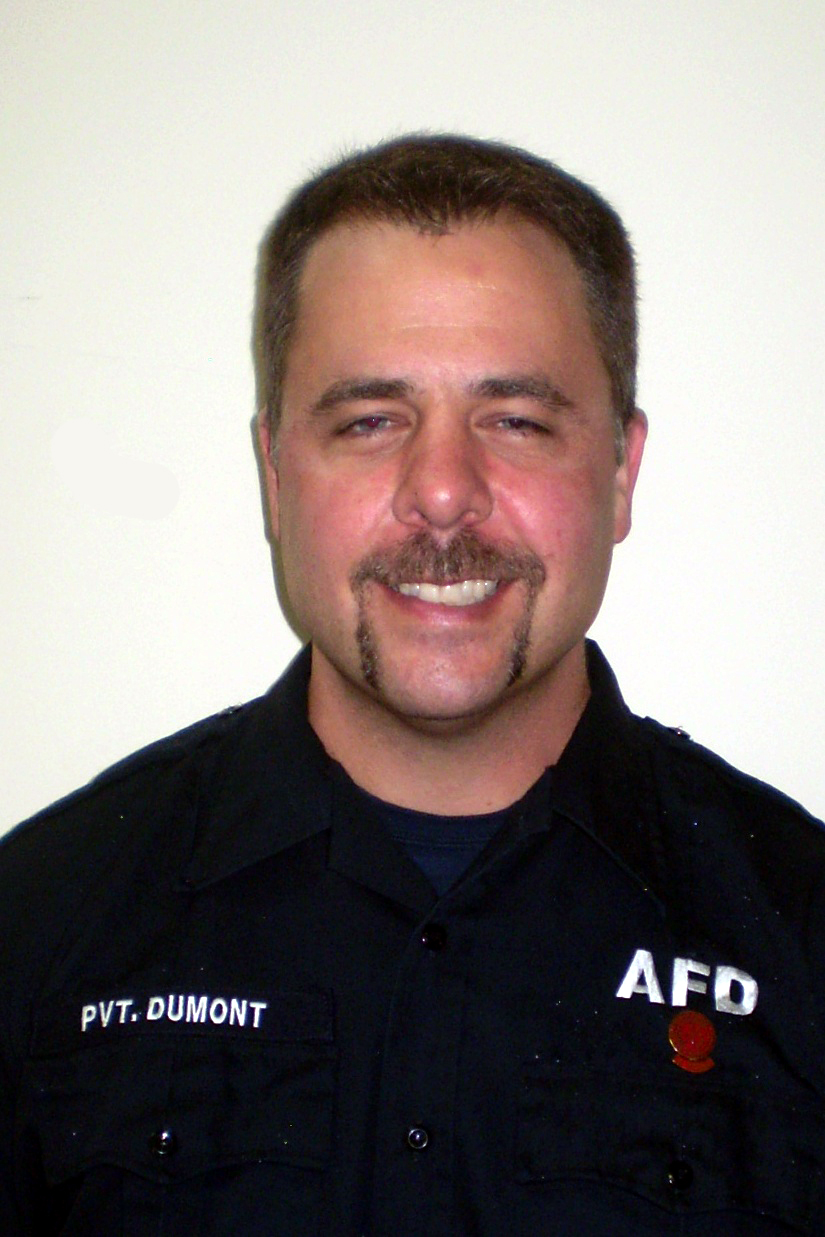 Lt. Robert Dumont
2011 MDA Schedule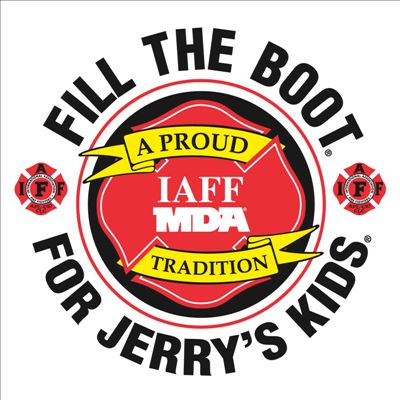 The 2011 MDA fundraising kickoff is starting off this coming Friday at Shaw's SuperMarket in Auburn. The Auburn Local 797 and Lewiston Local 785 Firefighters unions are trying to break the 2010 achievement of $16500. We fell short of our 2010 goal but have accomplished many milestones in the 2010 year. As a State we were able to collect almost $97,500 which is an all-time high for the State of Maine. Hopefully this year we can raise more money to find the cure for Muscular Dystrophy. With the help of our firefighter brothers, fire administration, local government and donations from the citizens we feel that this goal is possible.
The Firefighters would like to thank everyone in advance for their donations.
Here is the most recent schedule for 2011:
April 23, 2011 from 0800-1600 at the Shaw's on Center Street.
July 16, 2011 at L/A Harley in Lewiston off Main Street, time TBA.
August, Balloon Festival at the Auburn Riverwalk in Bonney Park, collections will be at 0530-0730 and also 1600-1800 Friday, Saturday and Sunday.
September 9, 2011 at the intersection of Union Street and Turner Street for a street boot-drive. Start time is at roughly at 1530 to dusk.
ISO Info
The Fire Department, in conjunction with the Auburn Firefighters Union, hosted a class provided by Paul Levesque of the Insurance Services Organization (ISO). Mr. Levesque is a Field Representative with the Community Hazards Mitigation Services of the ISO. He provided some valuable insight into how the ISO rates local Fire Departments, and how their rating impacts the insurance ratings within the community.
The session lasted most of the morning and was attended by about 30 people. Some of the on duty crews sat in on the program-as did Public Safety Chief Phil Crowell and Deputy Fire Chief Geoff Low. Several off duty firefighters also attended. The Auburn Fire Department personnel were also joined by representatives from many of the mutual aid Departments. Everyone found the class extremely informative.
Mr. Levesque described in detail how the ISO measures the major elements of a Fire Department's fire suppression system. The ISO audits the Fire Department and then they calculate a Public Protection Classification based on their findings. They rate the Department on a scale from 1 to 10-with 1 being the best Fire Protection and 10 being what Mr. Levesque described as essentially no Fire Protection. The ISO classification is commonly one of the most heavily weighted elements used by insurance companies when developing fire insurance rates for individual properties. Other factors used by insurance companies to determine hazard insurance rates include: construction, occupancy, exposures, on site fire protections systems, and credit ratings.
The Auburn Fire Department was last audited by the ISO back in 1994. At that time the City was given a rating of 3, making it one of the highest rated in the state. In fact, there have only been three other Departments in the State of Maine that have had a higher rating (they all had a rating of 2). The Department was recently put on notice by ISO that they were coming in to perform another audit in the upcoming months.
Given the information provided by Mr. Levesque, the Department faces many challenges with the upcoming audit. Both the City and the Department have undergone many changes since 1994. Some of these changes will have a positive impact on the City's ISO rating and some are going to have a negative impact. Any changes to the ISO rating, per Mr. Levesque, will be most heavily felt first by industry, then large commercial occupancies, then smaller commercial occupancies, and finally the homeowners.
The ISO looks at many factors when calculating their ISO rating. These factors include: the Dispatch system, the fire hydrant system throughout the City, the ability of the Department to get water to buildings outside the hydrant system, the Fire Department's apparatus and equipment, the Fire Department's staffing levels, the Firefighters' training, and the distribution of the Fire Stations.
Relative to the distribution of Fire Stations, ISO looks at the number of Engine companies needed and the number of Ladder companies needed. The coverage within a 1 ½ mile, 2 ½ mile and 5 mile road travel distance is heavy weighted into the distribution needs of Fire Stations and companies. They then look closely at the staffing of these Engine and Ladder companies, with full credit given for full time firefighters and partial credit for call or volunteer firefighters. ISO requires three fully equipped and trained call or volunteer firefighters to equal one career firefighter.
Since 1994, the Department has lost some resources that will have an impact on our ISO rating. In 1994, Central Fire Station was staffed with an Engine company, a Ladder company and a Rescue company. The Ladder company was moved to Center Street station when Tower 1 came in. More recently, the Rescue truck was taken out of service, leaving a single Engine company responding out of Central Station. With the loss of the Rescue company, the minimum staffing was reduced from 14 firefighters to 13 firefighters. According to Mr. Levesque, these changes will impact the ISO rating of the City.
In 1994, the Fire Department also had a Water Tanker truck that was used to bring water to areas outside the hydrant district. That old tanker was removed from service and never replaced. The Fire Department had a spare aerial truck in 1994-Snorkel 1-that was also removed from service and never replaced. Also, the Fire Department received credit in 1994 for having an Engine out of Danville. This volunteer Engine company shut down due to lack of personnel. Finally, reduction in Administrative Personnel will also impact the Department's ISO rating. In 1994 the Department had a Chief and three Administrative Deputy Chiefs while today there is only a single Deputy Chief at the Fire Department. These circumstances will also impact the ISO rating of the City, per Mr. Levesque.
Regardless of the above changes, the Fire Department will continue to do its best relative to its ISO rating. A good ISO rating makes the City a more attractive place to do business and also saves the property owner money in fire/hazard insurance. The upcoming audit will provide the Department some important third party information on what is needed to adequately provide Fire Protection to the City.
More information about ISO will be coming in the future. If you have any questions about the ISO, the Auburn Fire Department's ISO rating, or how these will impact your insurance rates, please contact Captain Don Flanagan at 207-784-5433 ext 26 or email him at dflanagan@ci.auburn.me.us.
Newly Promoted Lt. Dionne
Auburn Fire Chief Geoff Low would like to announce the Promotion of Firefighter Richard Dionne to the Rank of Lieutenant.
Lt. Dionne has been assigned to Engine 3 at Central Station. His previous assignment was the driver / operator of Engine 2 where he gained valuable knowledge and experience dealing with all types of emergency calls within that district as well as the rest of the city.
Lt. Dionne joined the Fire Department in February of 2000. He is a Registered Nurse, with a degree in nursing from CMMC School of Nursing. He is also a Veteran of the U.S. Air Force , serving during the Desert Storm Conflict. He also graduated from Oak Hill High School.
He currently resides in Auburn and is married to Tracy, who is also a Registered Nurse, she is employed at Central Maine Medical Center. They have two kids, Emma and Jack.
Lt. Dionne is an EMT/ Paramedic. He also has several duties in the Fire Department, which include EMS quality assurance. His hobbies include hunting, camping and spending most of his free time with his family.
Congratulations from all your Brother Firefighters!!!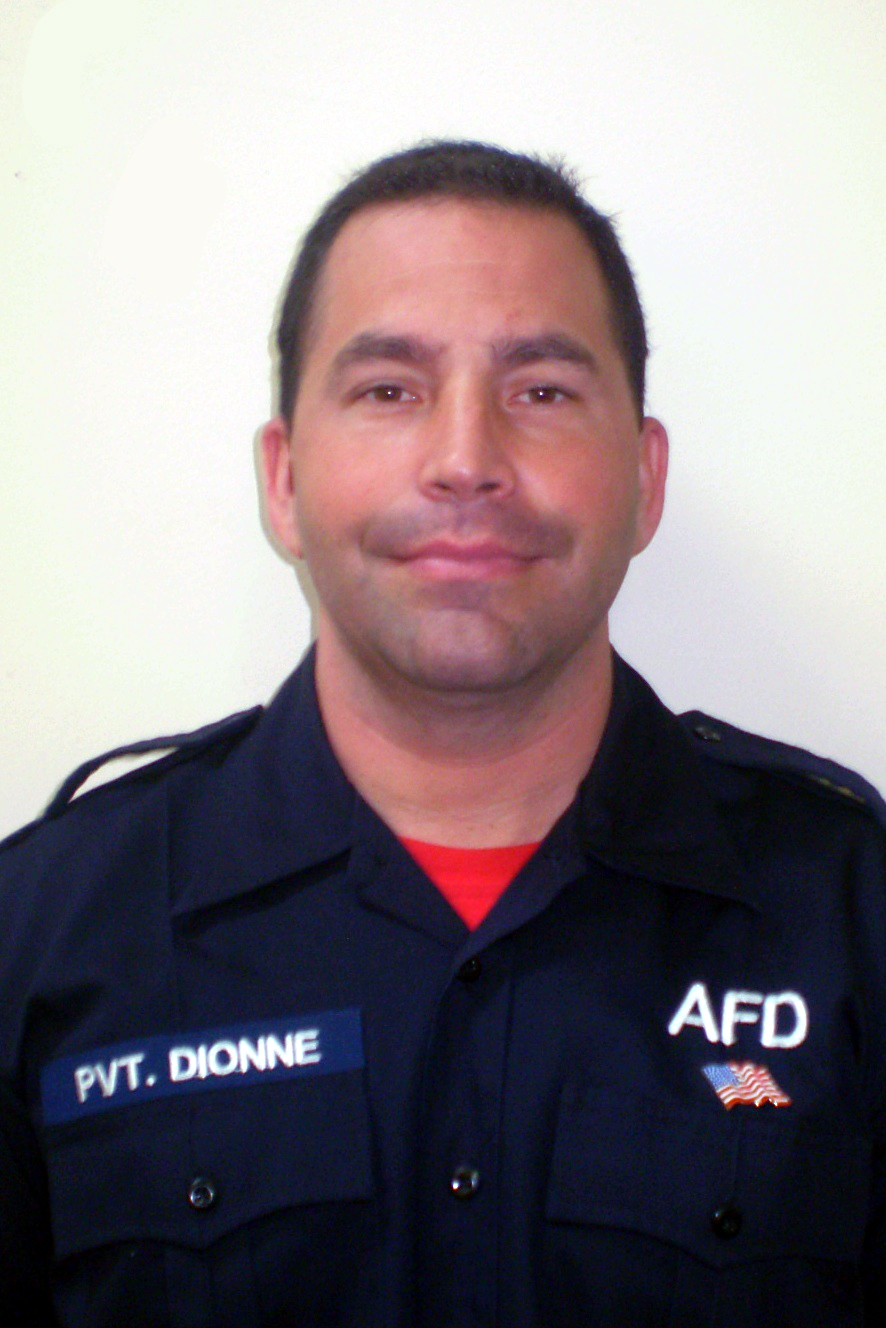 Lt. Richard Dionne
Local 797's Honor Gaurd presents "The Colors" at Fenway Park
The Auburn Firefighters Local 797 Honor Guard was asked to present colors (ceremonial flags and axes) at the opening of the Boston Red Sox game on Saturday May 7th, 2011. The game was against the Minnesota Twins, with the Sox winning 4-0, even after a couple of rain delays. The Honor Guard group marched out to center field just outside of the second base area and posted colors while the National anthem was sung. After the the National Anthem, the Honor Guard's duties were finished and marched back off from the field. The Boston Red Sox PR ambassadors allowed the Honor Guard to stay for the game. The Red Sox Club as a whole were most gracious hosts.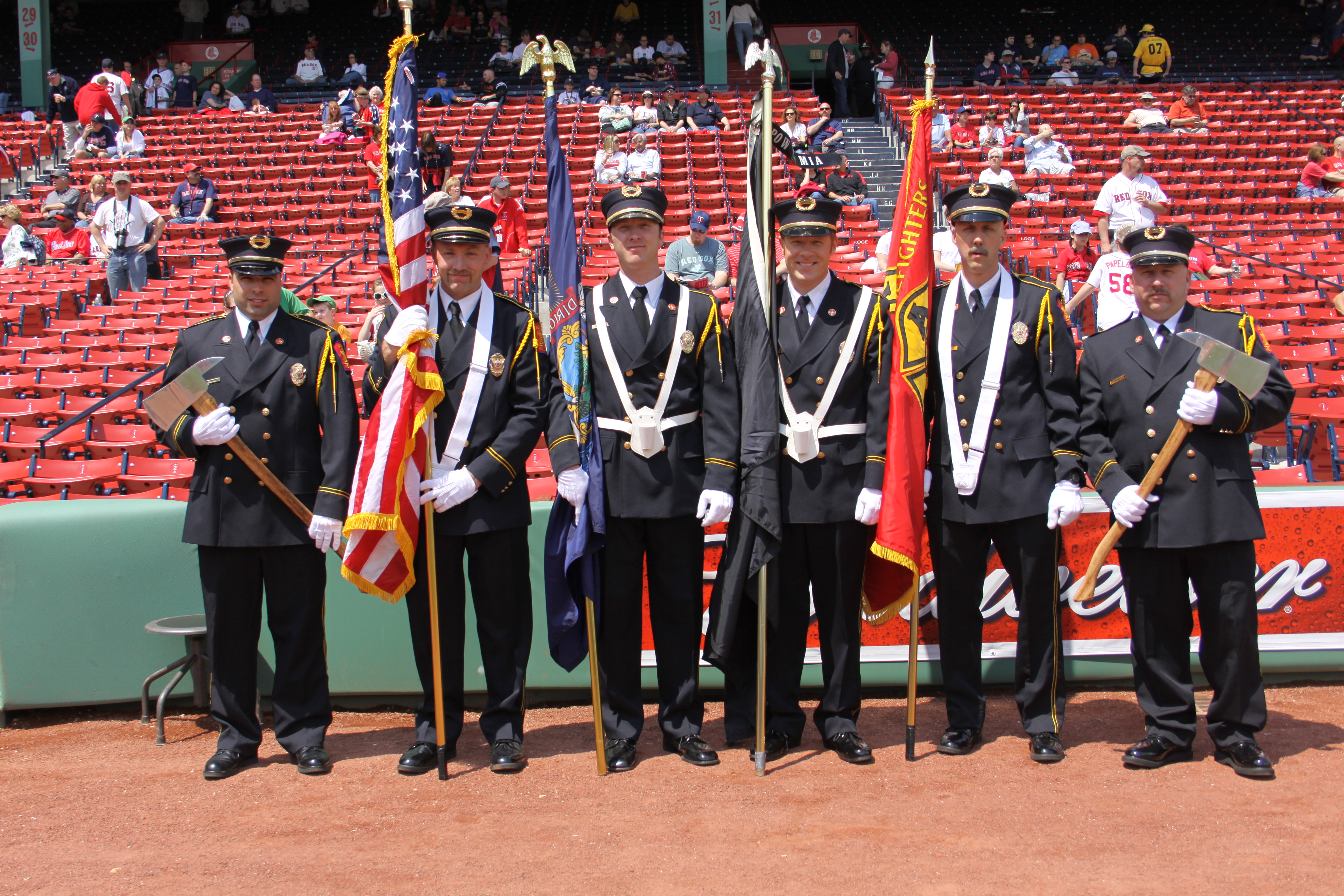 In the picture from left to right: Craig Bouchard, Scott Pray, Ryan Demers, Matt Fifield, Chip Keene, and Chris Morretto
Picture taken by John Roy also from Auburn Firefighters
Auburn Rides for Donatoins

Thanks to Lt Boulet and Retired FF Brooks

On September 21st, 2010 Lt. Mark Boulet and Retired Firefighter Mike Brooks raised funds through the YMCA of Auburn. Lt. Boulet rode 100 miles on a stationary bike and Ret. FF Brooks was jogging right next to him on a treadmill for nearly 8 hours. YMCA raised money by having their members make donation to either ride or jog next to either of the fire fighters in there journeys for up to a half hour at a time. Between the Auburn Firefighter's and the members of the YMCA, they were able to raise $500 dollars with the Auburn Fire Fighters Children's fund matching that amount. A total of $1,000 were raised and all of the proceeds went to the Healing Tree at the Dempsey Center which is the support center for kids at through the Dempsey Foundation.
Link Below from the Sun Journal: http://www.sunjournal.com/city/story/913395
Page Last Updated: Mar 24, 2015 (14:02:56)