On February 14th, 2011 the Auburn Fire Department welcomed their newest member, Mark Tripp, to the force. Prior to being hired in Auburn, Mark spent 7 years as a full-time firefighter with the Town of Rumford. He started his firefighting career in Rumford in 1996 as a member of their junior firefighter program. He served in their call force until he got hired as a full-time career firefighter in 2004. Mark also currently works as a firefighter for the Town of Paris and as an EMT for Med-Care Ambulance in the town of Mexico. Med Care Ambulance provides EMS services to 11 towns in the River Valley Area.
Mark brings with him a number of professional certifications and licenses. He is a National Pro Board Accredited Firefighter I and Firefighter II. He is State of Maine licensed Basic EMT. He is a certified Hazardous Materials Technician. He is well versed in various Technical Rescue disciplines with current certificates in rope rescue, confined space rescue, trench rescue, tower rescue, ice rescue, and SCUBA. He also has a Class B Commercial Drivers License. Mark is also finishing up an EMT-Intermediate class.
Mark attended school at Mountain Valley High School in Rumford where he graduated in the class of 1998. He currently resides in Rumford Point and is looking to relocate to the Auburn area. When not serving the public, he enjoys spending time with his 3 year old daughter Jasmine. Mark also likes most outdoor activities including: skiing, golf, snowmobiling, fishing, and hunting. Understanding the strenuous physical requirements of the job, Mark also maintains a rigorous physical fitness regimen.
Mark finished an intensive two week Rookie School run by certified in-house fire instructors. He will continue his studies with a year long probationary period. During his probationary period he will have to complete numerous trainings. He will also have to pass written and practical performance exams. He is assigned to Engine 3 at Central Station and will be working on C shift.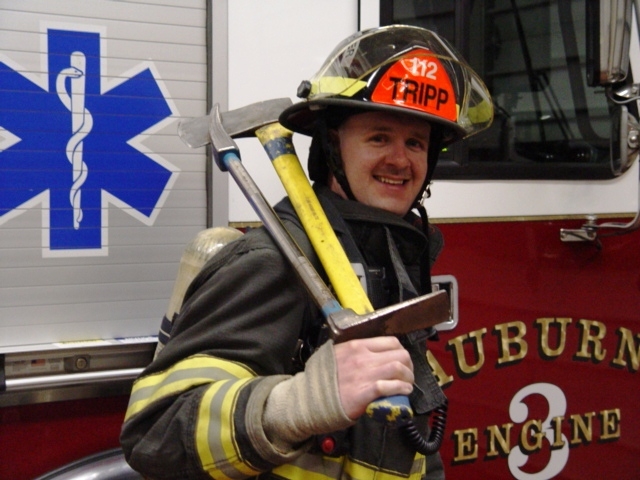 Pvt. Mark Tripp