Auburn Firefighter's Honor Guard
The Auburn Fire Fighters Local 797 has complete jurisdiction of the Honor Guard which allows the unit to particiapte in a variety of ceremonies and events. The Honor Guard has four basic objectives 1) To show last and full honors to public servants who have died in the line of duty. 2) To show last and full honors to retired Auburn Firefighters who have died. 3) To pay respect to public servants from other departments when requested or deemed. 4) Ceremonial duties (parades) color unit.
We currently have 12 active members:
BC Allen

Pvt. Bouchard

Pvt. Burnham

Pvt. Demers

Lt. Fifield

Lt. Keene

Pvt. Moretto

Pvt. Poland

Lt. Pray

Lt. Scott

Lt. Therrien

If you would like to contact the Honor Guard with requests, questions or comments please use the "Contact Us" button in the main menu or stop by one of the three stations and talk to the fire fighters.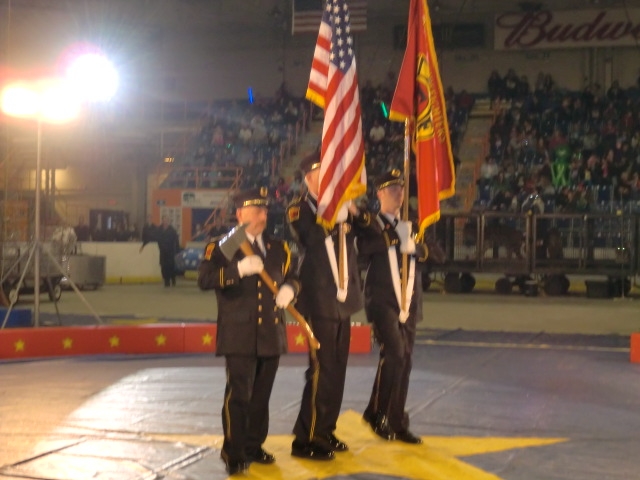 Photo Left to Right: Pvt. Moretto, Pvt. Poland, and Pvt. Demers at the 2010 Shriner's Circus.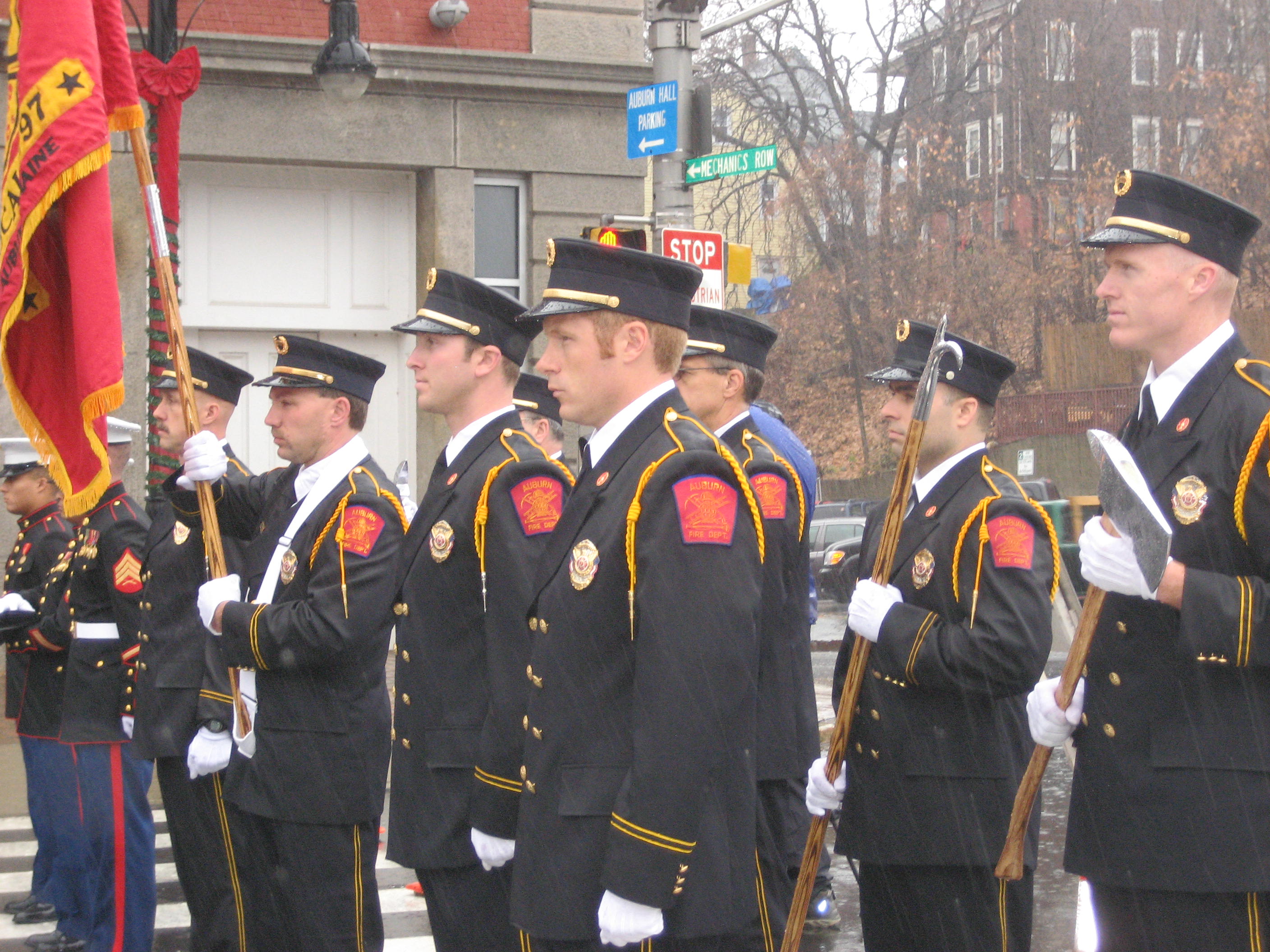 The Honor Gaurd at the Auburn City Hall for the Flag Pole Ceremony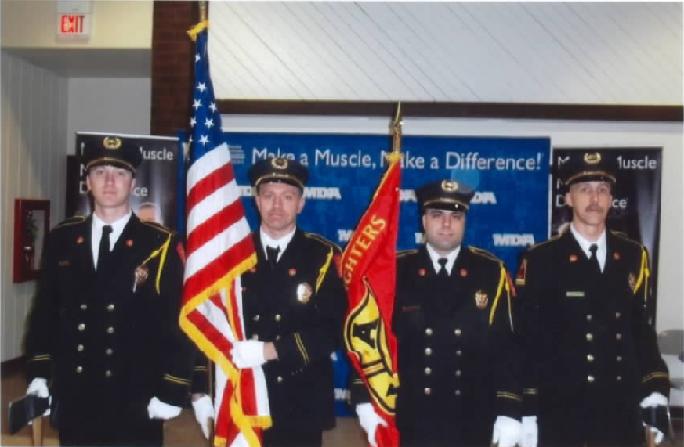 Honor Gaurd at the 2012 MDA Walk-A-Thon.
L-R: Pvt. Demers, Lt. Pray, Pvt. Bouchard, Lt. Keene
Local 797's Honor Gaurd presents "The Colors" at Fenway Park
The Auburn Firefighters Local 797 Honor Guard was asked to present colors (ceremonial flags and axes) at the opening of the Boston Red Sox game on Saturday May 7th, 2011. The game was against the Minnesota Twins, with the Sox winning 4-0, even after a couple of rain delays. The Honor Guard group marched out to center field just outside of the second base area and posted colors while the National anthem was sung. After the the National Anthem, the Honor Guard's duties were finished and marched back off from the field. The Boston Red Sox PR ambassadors allowed the Honor Guard to stay for the game. The Red Sox Club as a whole were most gracious hosts.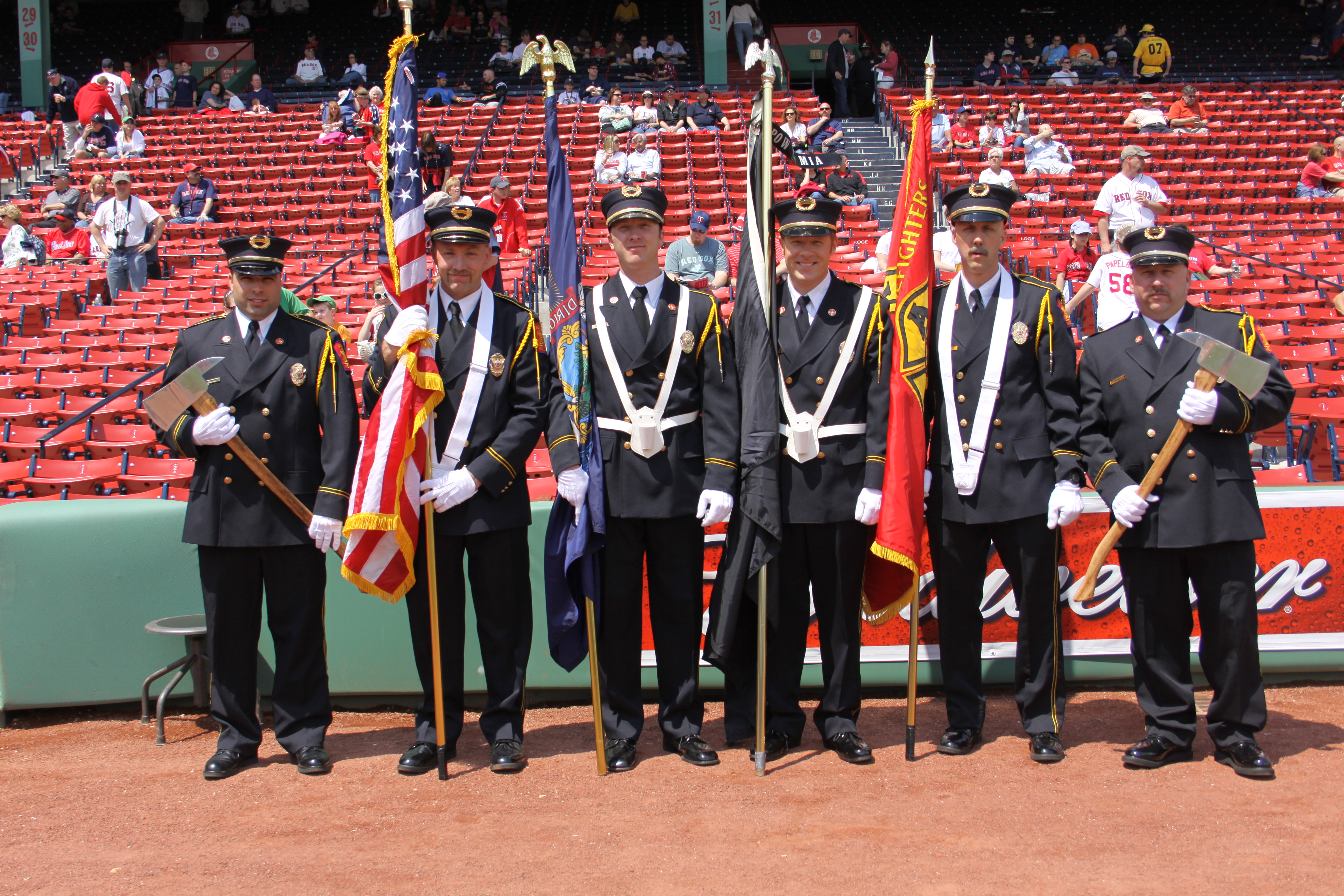 In the picture from left to right: Craig Bouchard, Scott Pray, Ryan Demers, Matt Fifield, Chip Keene, and Chris Morretto
Picture taken by John Roy also from Auburn Firefighters
Page Last Updated: May 19, 2011 (17:10:49)