Auburn Fire Department Guidelines for Outdoor Burning
Preventative Measures for Burning Brush
Obtain a burn permit
· Any of the three fire stations in Auburn you can obtain a burning permit from
· Permits need to be done in person, the same day the fire will occur and they are free!!!
· You do not need a permit to use your outdoor fireplace, provided it is used only for a warming or cooking fire
· No permit is required to use a gas or charcoal grill or hibachi. (Grill can not be used anywhere with a roof or floor above it and shall be a minimum of 5 feet away from any combustibles. They shall not block any egress or exit points.)
You can not burn:
· Tires
· Rubber Products
· Asphalt Shingles
· Tar
· Paint or solvent sludge
· Rubbish or refuse
· Garbage
· Paper, cardboard or wood boxes
· Leaves
· Wire Insulation
· Animal Remains
Watch the weather and fire danger
· Weather plays an important and uncontrollable factor in fire behavior especially if it involves forest/brush fires.
· The fire department uses the Forest Fire Danger Report to make the decision wither or not it is safe to burn. This report is updated daily at roughly 0830 and can be reviewed at: http://www.maine.gov/doc/mfs/firedanger/fire.shtml
Burning is not allowed within 25 feet of a public way or within 50 feet of a building
Make sure you have plenty of help (never burn alone)
· We strongly recommend that you have at least 2 adults there during the fire that way someone is always watching the fire
· Do not kindle a fire on another person's property without a permit and the landowner's written permission
· You are responsible for any damage your fire causes
Always have tools available: shovels, water source, garden hose, fire extinguisher, buckets of water, a cell phone to call 911, and plenty of help.
Keep yourself and members around the fire safe from heat and ambers.
· Use proper clothes to protect yourself for example leather boots, leather gloves, pants, a sleeved shirt, and safety glasses or goggles
Never leave your burn unattended, it is illegal.
Always do a double check when the burning is completed to ensure it is "Out"

Build campfires away from overhanging branches, steep slopes, rotten stumps, logs, dry grass and leaves.

Surround your fire with rocks and build on a 10 foot-diameter circle of mineral soil.

Keep your fire small.

Call the Auburn Fire Department dispatcher at (207) 784-5431 after you have finished burning and it has been extinguished completely.
If the Fire or Police Department receives any complaints or if a nuisance or dangerous situation is created, burning will cease immediately.
Call the Fire Department early if the fire becomes out of control and do not attempt to fight the fire. Always be Safe! Don't wait till it is to late, call 911 if you lose control of your burn!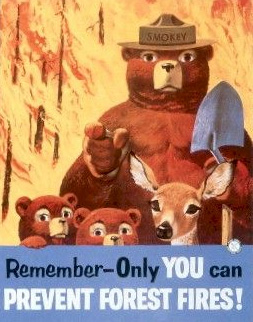 For more information use the following link: Maine Forest Service
http://www.maine.gov/doc/mfs/ffchome.htm