Maine's Bravest Brings Home the "Cup"
The Auburn Fire Department's IAFF Local 797 is excited to announce the success of the 2013 stair climbing team (Maine's Bravest). They out-stepped 2nd place Portland Fire Department by a mere four seconds to bring home the race's victory cup. Portland has held the title of top steppers for the last two years. This is Auburn's third year competing in this event that takes place at One Boston Place in Boston, Massachusetts. The annual event is a fundraiser for the American Lung Association. Auburn's victory at the stair climb is most exciting. More importantly is the stair climb raised over $400,000 for the American Lung Association. Thank you for all the support from the community, friends, families, and businesses. Auburn surpassed their team goal of $3,500.00 and raised $4,910.00.
This event-often referred to as a vertical road race-consists of firefighters wearing firefighting gear and air packs racing up 41 stories as fast as they can. This is a total of 789 stairs. Beyond raising funds for the American Lung Association which goes toward research and treatment of lung disease, firefighters race for various reasons. Some do it in honor of loved ones who are sick, or who have died from lung disease, some for self gratification, some for bragging rights, other's are driven by the opportunity to bring the "cup" home for a year, then have their team's name inscribed on the cup with previous winners.
This year's event had 435 individual firefighters that broke down into 41 teams from all across New England. Team times are computed by taking the 5 fastest climbers per team and adding them together. The firefighters' wives and girlfriends also competed in this event without the gear against other civilian teams.
Some of the highlights from this year's event are as follows:
1st Place: time of 40:22, MAINE'S BRAVEST - AUBURN FIREFIGHTERS LOCAL 797
1 7:55 Mark Tripp
2 8:02 Thomas Printup
3 8:04 Scott Pray
4 8:09 Chip Keene
5 8:12 Stephen Coombs
Individual results are as follows:
7:55 Mark Tripp finished 4th of 435 and 4th in his age group (30-39)
8:02 Thomas Printup finished 7th of 435 and placed 1st in his age group (20-29)
8:04 Scott Pray finighed 8th of 435 and placed 1st in his age group (40-49)
8:09 Chip Keene finished 9th of 435 and placed 2nd in his age group (40-49)
8:12 Steve Coombs finished 11th of 435 and placed 7th in his age group (30-39)
8:39 Mike Lecompte finished 21st of 435 and placed 1st in his age group (50-over)
9:37 Ryan Demers finished 55th of 435
9:58 Joshua Labonte finished 77th of 435
9:59 Dan Masselli finished 78th of 435
11:03 Justin Carver 132nd of 435
11:41 Matthew Fifield 166th of 435
12:54 Joshua Harris 222nd of 435
The firefighters' wives team finished 7th against 47 competing civilian teams. Beryle Martin placed first in her age group with a time of 7:43 and Candace Labonte placed 3rd in her age group with the teams fastest time of 7:03.
Auburn looks forward to defending their title at next year's stair climb race and retain the cup. For more information or to donate to the American Lung Association "Climb for Air event"
http://www.lung.org/pledge-events/ma/boston-climb-fy13/
https://www.facebook.com/BostonClimb?ref=ts&fref=ts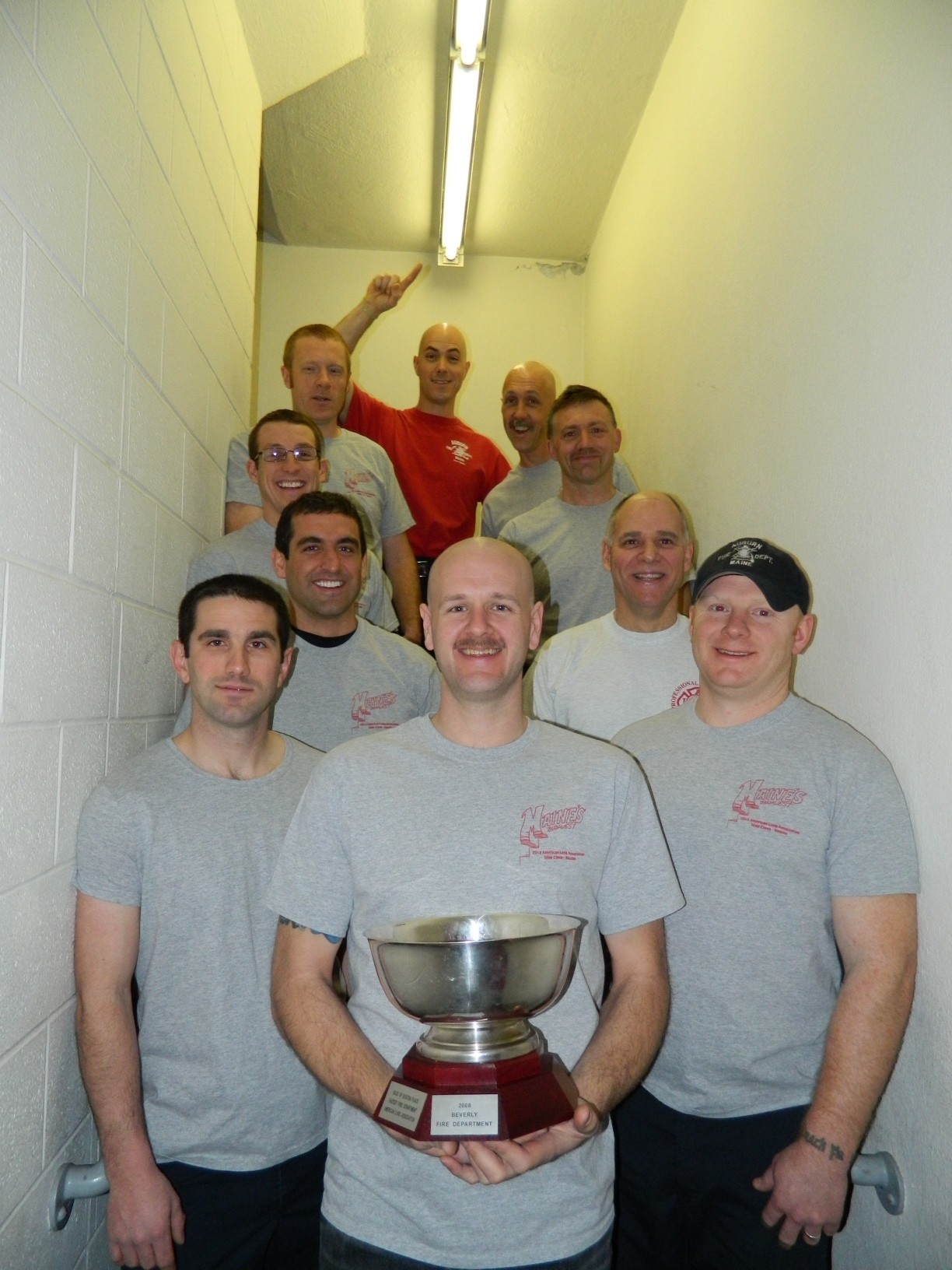 Starting from top moving down left to right: Masselli, Fifield, Keene, Printup, Pray, Labonte, Lecompte, Carver, Harris, Tripp